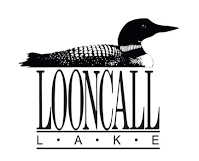 It has been an interesting cottage season already, with weather causing washouts requiring early roadwork. That appears to be behind us now and we are looking forward to a wonderful summer.
Governance
AGM
The AGM will be earlier than usual this year, it will be held on Saturday June 10th from 10am until noon at NKCC. See you all there!
The full agenda will be published in early June. Topics will incude:
Treasurer Report
Water Quality
Shoreline Management
FOCA Summary
Events in 2023
Loon Call Lake Logowear
and more
Executive
There have been no changes in the executive this year. However, there is room for members at large. Also, as some of the executive have held positions for many years, we anticipate openings in the coming year. We would love to see you on the executive. Let us know if you are interested. For your reference, follow this link to the current team: loon-call-lake-governance.
Community
Events
Paddle Palooza and Food Drive
We have had so much fun with the community paddle that we are keeping it, but with a new name. The Paddle Palooza and Food Drive will be held on July 1st starting at 10:30am. Paddle the lake with your friends and family. Greet lake friends at their docks and support the community by bringing non-perishable food to the drop off points for donation to the Apsley food Bank.
Regatta and Corn Roast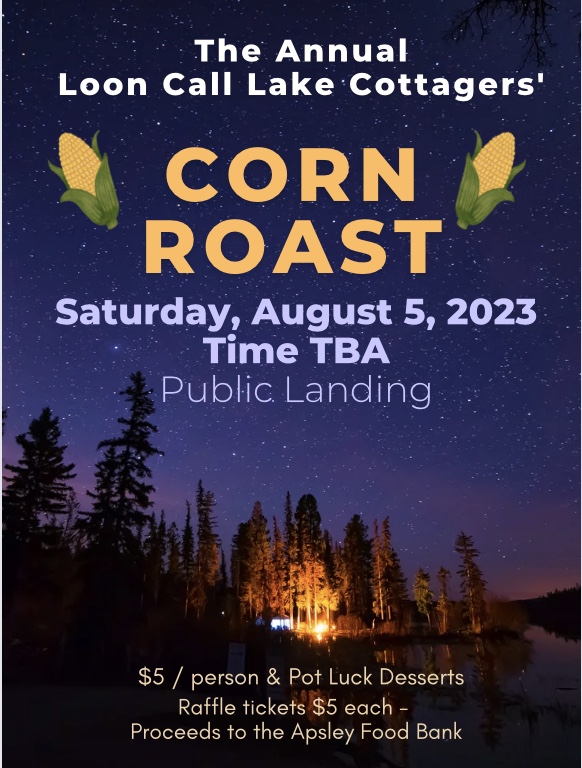 We are looking forward to the Regatta and Corn Roast on August 5th, and welcome all volunteers. We will have more information at the AGM, including details about Loon Call Lake Logowear.
Obituary
Sadly, one of "the originals" on the lake passed away this spring. Olive Carey passed away on March 13, 2023. She and her husband Sean were long time cottagers on Loon Call Lake. You can find Olive's obituary by clicking here.
Cottage Association Fees
Fees remain at $20, and go to fundraisers for the North Kawartha community; FOCA membership; and hosting fees for the web site, to name a few.
It is never to early to send your 2023 fees to our treasurer. You can:
Cottager List
Do you need your cottage neighbour's contact information – email info@looncalllake.ca to find out how to get it.
Lost and Found
Have you lost something? Found something? You can post on the Looncall Lake Cottagers Association facebook page. You can also email info@looncalllake.ca and we'll post on the Loon Call Lake web site.
Have you found what you lost? Has the lost item found its owner? Let us know and we'll take the notices down.
Grocery Store
Sayers construction is underway, with news articles indicating an opening date of August. As information comes available, we will share it.
On the Water
Water Quality
2021 data is now available and published on the web site at looncalllake.ca/the-lake. We have been classified as a sensitive lake, so while the quality is not worsening we must remain vigilant.
Shoreline Management
One of the ways we can help our lake is to care for the shoreline. Encourage shoreline plant growth to reduce runoff; never rake leaves into the lake; and keep chemicals away.
Visit this link for actions that cottagers can take to assess and improve their shorelines: Shoreline Self-Assessment Booklet Tool for Shoreline Property Owners from Watersheds Canada.
FOCA: Topics of Interest Presented at the FOCA AGM
Elerts: We encourage you to visit foca.on.ca/elerts/ to see recent elerts and to subscribe to get informative, helpful cottage country information.
Fish Lead Free: Do you still have lead in your tackle box. Please replace it with lead free tackle
Mandatory PFD: Private Members' Bill is before the Ontario Legislature, which would require all children to wear life jackets while on the water (with some exceptions).
Lyme Disease and Ticks: The at risk region has been expanding. Check your pets and yourself after every walk.
Questions? Requests? Feedback? email info@looncalllake.ca
---
---
Watch out for the wildlife.
See you on the Lake!
Loon Call Lake Cottagers Association