Please remember, you are responsibility for your own safety and well being. Assess your surroundings and determine conditions when engaging in any activities on the lake.
Physical Features of the Lake
Loon Call Lake is a typical Canadian Shield lake with a rugged, granite shoreline and infertile, soft water. It is a head-water lake fed by various ponds around the lake. Loon Call Creek starts at ponds in the area between Wolf Lake and Loon Call Lake, enters on the north side and then Loon Call Creek exits the lake between lots 12 and 13. At the exit, there is a concrete dam (installed in 1972) that controls the level of the lake unless the local beavers downstream have other ideas. Loon Call Creek eventually drains into Eels Creek. There is very little flushing action in the lake with water only flowing over the dam when the water level is high, usually the spring. Summer evaporation can lower the level of the water over 10 cm below the level of the dam.
Elevation: 329 m
Surface Area: 86 ha
Maximum Depth: 16 m
Mean Depth: 5 m
Length: 3.2 km
Width: 0.3 km
For a larger view, right click to open in a new tab, then click on the new tab.
Ponds
Topography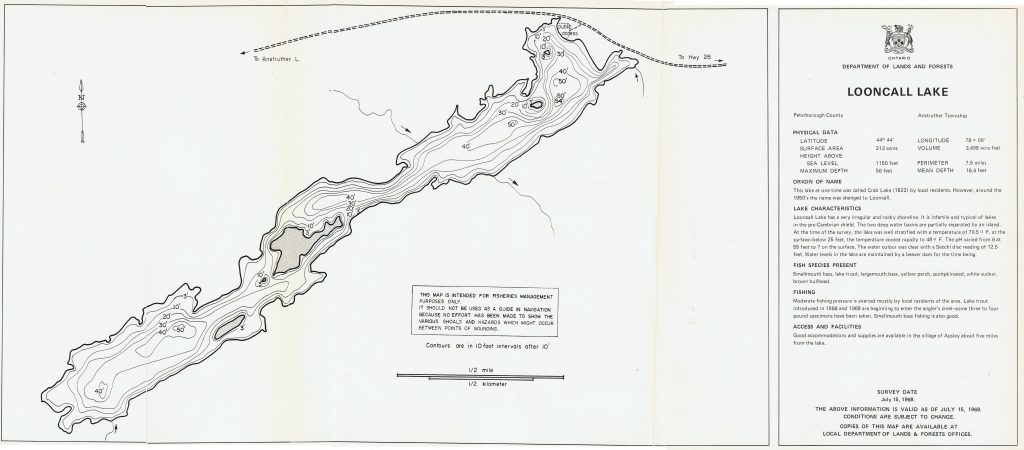 Water Quality
It is of paramount importance for cottagers to maintain the water quality of Loon Call Lake. The 1972 Lake Alert Study concluded that Loon Call Lake was a "sensitive" lake because of its small size, very low water turnover, and the number of cottages (We are over-populated by a factor of 7!). To this date, we have done fairly well. The lake has low nutrient levels and good water clarity. The nutrient limiting factor is phosphorus and our surface levels are in the 6-7 ug/L range which classifies us as an oligotrophic lake. Clarity is measured using a Secchi disc and we average in the low to mid 4 m. The good news is that these numbers have not become worse over the decades of testing. We have participated in the Lake Partner Program for decades. Since we have become part of the Park, the Park has partnered with Trent University to test the water in many of the Park lakes to a much greater degree so that the effect of the Park and human use can be monitored.
The total phosphorus and calcium samples are collected every May and then sent to Dorset for testing by the Lake Partner Program. Secchi disk readings are taken throughout the year and mailed in to Dorset, also. Trent University tests the water in park lakes every two years. Loon Call Lake Status Report 2018, Loon Call Lake Water Quality Report 2020.
Want to know more about the Water Quality Program? Visit trentu.ca/tarp.
Secchi Disk Reading (m) Annual Average
A Secchi disk reading is a measure in metres of the point at which a black and white disk disappears/reappears from view when lowered into the water. This measure is an indicator of water clarity. Loon Call Lake historically averages readings in the mid 4 metre range which is quite acceptable.
Total Phosphorus and Calcium Readings
The Lake Partner Program is run by the Dorset Environmental Science Centre (in partnership with FOCA). Water samples obtained annually by volunteers on Ontario lakes are tested for total phosphorus and calcium levels.
Phosphorus Readings (ug/L) Sampled in May
Lake Calcium Level Readings (mg/L) Sampled in May
The phosphorus levels are an indicator of the nutrient level of the water. Too much nutrient (phosphorus is a limiting factor) causes the water to be able to support too much plant and algal growth. Loon Call Lake averages 6-7 ug/L for total phosphorus which classifies our lake as oligotrophic, meaning we should not be prone to excessive plant growth nor algal blooms. Phosphorus levels were not recorded for 2020 due to Covid restrictions during which samples were not taken or analyzed
Calcium is an element required for the structural growth of many organisms. At levels of less than 2 mg/L, many organisms at the bottom of the food chain struggle to survive. At levels approaching 20 mg/L, unwanted species such as zebra mussels will be prolific. Loon Call Lake averages in the 6-7 mg/L range which is sufficient for the necessary organisms at the bottom of the food chain but but not high enough for some high calcium demanding invasive species. We are classified as a soft water lake. Calcium levels were not recorded for 2020 due to Covid restrictions during which samples were not taken or analyzed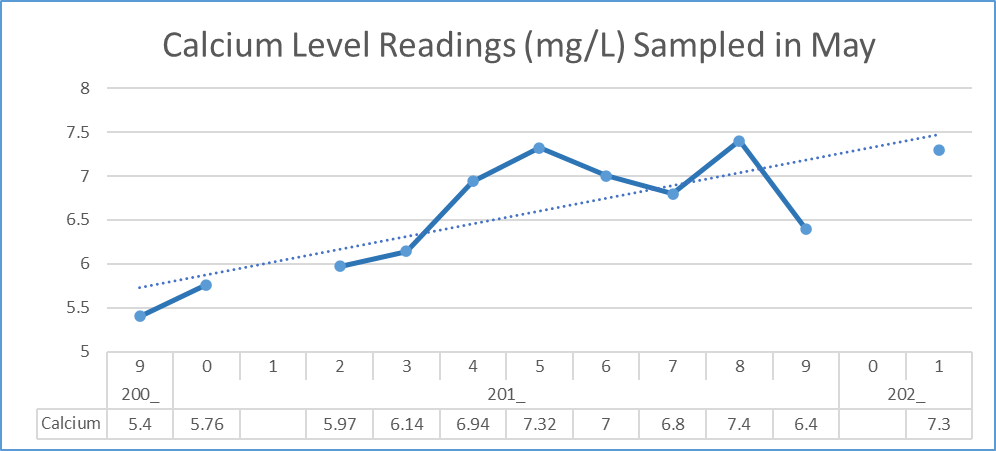 Lake Chloride Ion Level Readings (mg/L) Sampled in May
Recently, the Lake Partner program has added chloride ion testing to its program.  The chloride ion levels are an indicator of the salinity (saltiness) of the lake.  Too much salt is not good for a fresh water lake but even freshwater organisms need some salt to survive.  Excess salt has become a problem in some lakes that are close to roads that are salted in the winter.  Loon Call Lake does not have an excess salt problems even though runoff from Anstruther Lake Road enters the lake.
As a cottager, knowing that we are a sensitive lake, put nothing in the water that you would not drink. Hence, the use of fertilizers near the lake is discouraged.
It is very important that you properly maintain your septic system and maintain a shoreline that buffers the lake from run-off. Our lake is not a sewer, bath tub or laundry tub! We are responsible for the health of the water. The township is increasingly active in inspecting septic systems.
Sites of interest: Lake Partner Program
Shoreline Management
Benefits of a Natural Shoreline: The best kind of shoreline is a natural shoreline with native plants and a vegetative barrier to prevent run-off from the land going straight into the lake. The benefits of a natural shoreline include:
minimized surface water runoff pollutants flowing into the lake
increased water absorption by the soil
improved wildlife habitat
erosion protection
Visit this link for actions that cottagers can take to assess and improve their shorelines: Shoreline Self-Assessment Booklet Tool for Shoreline Property Owners from Watersheds Canada.
Be Lake Friendly
From LakeFriendly.ca: "Water is our most precious resource. One of the most significant problems facing lakes, rivers, and streams today is an excess of nutrients entering our waterways. This causes an overgrowth of algae that is choking our waters, destroying habitats, and spoiling beaches. These nutrients can also be toxic to humans and animals. If this continues, our waters will not be able to recover.

We need to act now!"
Please find reference material at lakefriendly.ca
Endangered Species
We have endangered species on Loon Call Lake. It is our duty to protect them!
Endangered species are species that are being threatened by extinction. There are different levels of the term. Depending on the population, a species in trouble can be classified as a:
species of concern
species at risk
threatened species
On Loon Call Lake, some of these species are:
Blandings turtle
five-lined skink
eastern hog-nosed snake
Note: There are various times of the year (e.g. during turtle nesting periods, June to September) that we need to be more aware of wildlife.
See the SARO list at ontario.ca/page/species-risk-ontario
Invasive Species
An invasive species is one that is not native to an area and, because it has no natural controls (disease, predators, consumers, parasites), it can spread to a degree that is deleterious to native populations.
Aquatic examples are:
zebra mussels (Loon Call Lake may be immune due to our acidity level and calcium level)
spiny water flea
eurasian water milfoil
asian carp
round goby
Terrestrial (Land) examples are:
giant hog weed
dog strangling vine
emerald ash borer
gypsy moth
purple loosestrife
phragmites
To protect our shared water, make sure any boat that has been in another body of water is thoroughly cleaned before entering our lake. Our public landing is the "door" for unwanted water dwellers.
See invadingspecies.com for more information.
Fishing
Loon Call Lake has a variety of fish suitable for angling.
Loon Call Lake holds:

small mouth bass
splake (a speckled and lake trout hybrid, which cannot reproduce), 2100 fingerlings are stocked into the lake every two years on the odd years by the MNR
pumpkinseed (a sunfish)
yellow perch
white sucker

anyone age 18 to 64 must have a valid fishing licence to fish
Loon Call Lake is in Zone 15 for fishing regulations
Fishing regulations and licence information can be found at ontario.ca/page/fishing.
Informative Links:
Trails
There are three types of trails in the vicinity of Loon Call Lake:
hiking trails:

A two-track trail connecting FR 55 to FR 58F to complete a circle around the lake. It runs from 30 m west of # 324 on FR 55 (at 55A) to 120 m east of #449/459 on 58F. Just west of #401/411 on 58F, there is an indistinct trail across the rock barrens which becomes more distinct as you enter the woods. This trail heads south and has a branch that goes to a trapper's cabin/hunt camp.
Another two-track trail , which an old map calls the Lumber Trail, starts 80 m south of #321 on 58F and also heads south. It is not known if these latter two trails meet but the old map (below) shows the Lumber Trail going to Highway 28.
Franz Meuller Trail, is a single-tracked trail. It starts 140 m east of #163 on 58F and goes to a promontory overlooking Crab Lake. It provides a great view. On the same old map (below), this trail was called the Miner's Trail and went beyond Crab Lake.

snowmobile trail:

The snowmobile trail (#503) crosses the Anstruther Lake Road 40 m west of FR 57. This trail runs between Wolf and Loon Call Lakes, crosses 58F 240 m in from 58 and then heads west. Snowmobile trails are not good for summer hiking because they often cross wet areas that are frozen over in the winter. To snowmobile on this trail requires a permit. See ofsc.on.ca.

other trail:

In addition to the above mentioned trails, there is one other trail that looks like an abandoned road. It starts 40 m west of the landing (#506) on the north side of the Anstruther Lake Road and heads north. It may become a Park interpretive trail in the future.
Walking in the woods, off road, has inherent danger. The area does have bears, people do get lost, and GPS and cell phone reception are not certainties. Please take all precautions when hiking.
For a larger view, right click to open in a new tab, then click on the new tab.
Points of Interest on the Lake
Is there a place on the lake that delights you? Send your Point of Interest to the info email to be added to the Points of Interest page.
---
Turtle Log on Fire Route 58F always brightens my day. It can be found just before the point. If a turtle or two are sitting on the log sunning themselves you just know it is a great day. In 2019 a merganser was spotted at Turtle Log.
---
Your Point of Interest could be here!