History
In 2015 the Loon Call Lake Cottagers' Association undertook a major effort to create and publish a Loon Call Lake history that you can see and download from Loon Call Lake, A Brief History of Cottaging on Loon Call Lake. Each new cottage household receives one copy of this book, and can purchase additional copies by contacting the Loon Call Lake Cottagers' Association President (while quantities last).
The Cottagers' Association
DRAFT Mission Statement
The Loon Call Lake Cottagers' Association (LCLCA) represents the cottage and home owners on Loon Call Lake. Loon Call Lake is situated in the Kawartha Highlands Provincial Park. The membership of the association includes permanent residents and seasonal cottage owners. The LCLCA represents and coordinates the communal interests of its membership. The mandate of LCLCA includes:
supporting a healthy and sustainable environment
representing common interest matters to all levels of government including – township, provincial and federal
facilitating the recreational events which achieve a great sense of community
promoting effective and ongoing communication with all of our membership and respects the diverse needs of the membership
Selection Process: The Executive is reviewed annually during the executive meeting, and is based on vacated positions and volunteer availability.
You become a member of the Loon Call Lake Cottagers' Association when you purchase a cottage on Loon Call Lake and pay the Association fees. You will be contacted by a member of the Cottagers' Association Executive. You will be:
asked to pay the Association fees, which are minimal
invited to the Annual General Meeting where you can participate in discussions and vote
asked to provide contact information for the Association directory
added to the distribution list to receive lake and Park updates from the Secretary
eligible to participate in Association run events including the Regatta and Corn Roast
part of FOCA – Federation of Ontario Cottagers' Associations- Access FOCA information here
Contact your Cottagers' Association Executive with any questions or issues. Phone or email from the Cottagers' Association Executive list.
If you want contact information for someone on the lake, contact the Secretary to request the cottagers' directory. It will not be published on this site.
Calendar of Events
Annual Cottagers' Association Meeting: Typically the Saturday before Canada Day
Annual Road Association Meeting: see Cottage Roads and Road Associations
Annual Regatta and Corn Roast: Saturday of the long weekend in August. For more info see Annual Regatta and Corn Roast
Cottage Roads
Most cottages are accessible by private roads that have been labelled as Fire Routes (FR).
Each cottage on the fire route has a number which is essentially its address. It is used by emergency responders and also by your visitors.
All access roads/fire routes are cottager maintained.
All access roads/fire routes are connected to Anstruther Lake Road which is maintained by the township.
Most fire routes are within the Park. Portions of FR55 are not within the Park boundaries. Additionally, the fire routes are typically on Park property although some portions are on private land owned by nearby cottages. Check with your specific Road Association for more details.
Fire routes are maintained for travel from approximately late April until mid-October. Travel in the early spring and late fall is not advisable as the road can be easily damaged. Likewise, the roads are not plowed in the winter. Some Road Associations charge additional fees if the road is plowed or if you use the road late in the fall and early in the spring. Check with your Road Association for details.
Please drive carefully. Sound horn where posted to let your presence be known. Watch for wildlife, pedestrian traffic and other drivers.
During the winter, parking is not permitted on Fire Routes and Anstruther Lake Road.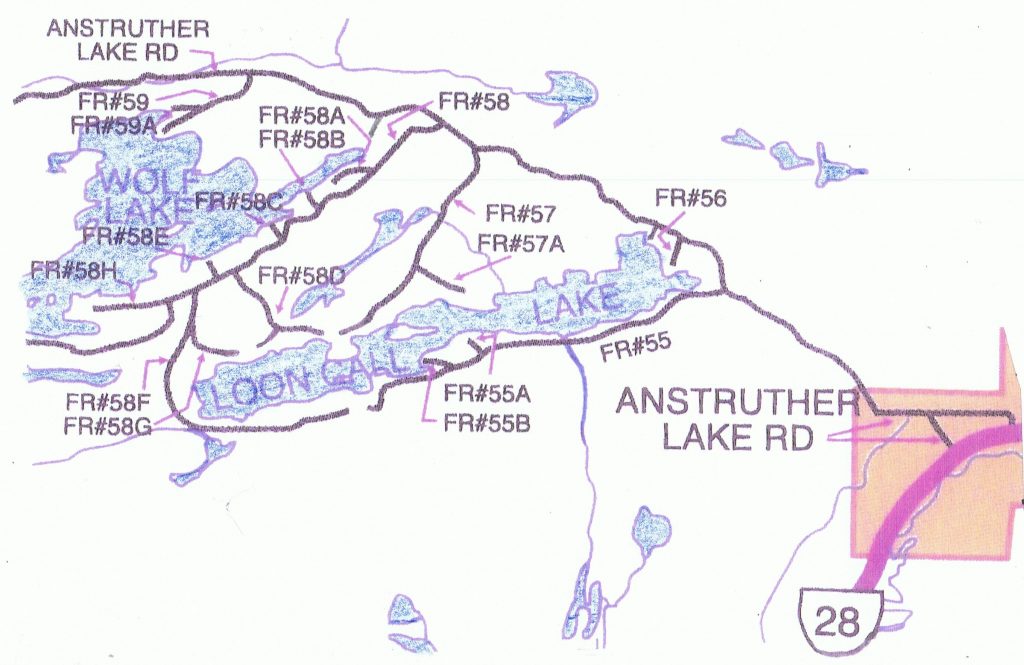 Road Associations
Fire routes are maintained by individual Road Associations. Cottagers pay an annual fee to their specific Road Association for maintenance. To access your cottage, you very possibly will use multiple fire routes. Your annual fee will cover both the road your cottage is on and other fire routes you use.
Each Road Association has an executive who is voted in at regular intervals, typically two year periods.
Find your current Road Association President here.
Each Road Association holds an annual meeting. Please contact your Road Association President for details about your annual meeting and to be sure you are included in communications.
For a larger view, right click to open in a new tab, then click on the new tab.
Lot Identification
Cottages are on Fire Routes, and therefore have Fire Route numbers. Cottages are also on the lake, and therefore have lot numbers, too.
For a larger view of either map, right click to open in a new tab, then click on the new tab.
From the Lake
Display your number on your dock or visible from the lake.
From the Road
Maintain your fire route (civic address) identification number, it is used for emergency purposes.