Instead of slowing down during the pandemic, Loon Call Lake became even more active, albeit physically distanced. The Regatta and Corn Roast were put on the back burner, but instead, we held the Pandemic Paddle, Planting Palooza, Music on the Dock and Golf Tournament were added to our repertoire. We're all looking forward to 2022 and a return to the Regatta and Corn Roast, but keeping the additional events, too! We won't miss the LDD moths, let's hope they don't return in 2022!
Annual Regatta and Corn Roast
Each summer, Loon Call Lake holds a Regatta and Corn Roast on the Saturday of the long weekend in August.
The Regatta was cancelled for 2020 and 2021 due to Covid-19, however we did have a Pandemic Paddle and Food Drive.
Golf Tournament – 2021
First Ever Golf Tournament…but we hope not the last.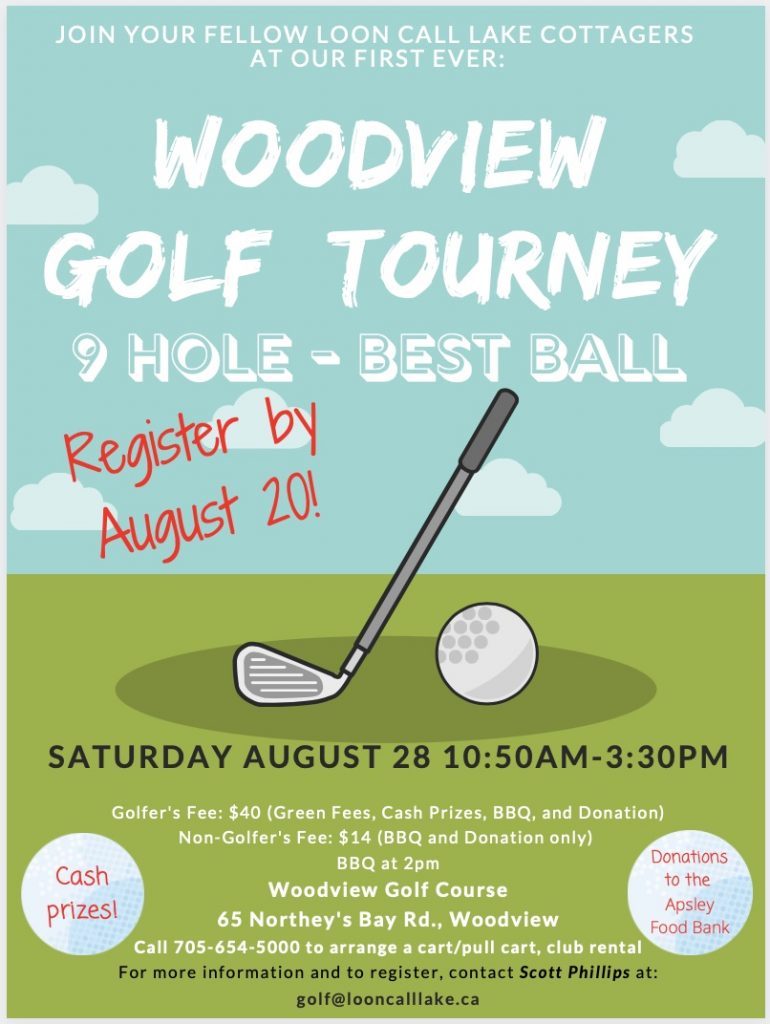 Pandemic Paddle and Food Drive – 2021 and 2022
For the three years of restricted gatherings due to Covid, Loon Call Lake hosted a Pandemic Paddle to meet and greet each other at a safe distance. We also collected food for the North Kawartha Food Bank Loon Call Lake greeted friends, old and new.
Music on the Dock – 2021
Boat Up Piano Bar Encore
Thank you Drew Phillips from the Loon Call Lake a Cottage Association for another very entertaining and enjoyable evening on Loon Call Lake!
There were 40 boats in attendance and the music played on until 8:30. Drew's extensive repertoire meant there was music for everyone. People of all ages from our lake appeared to be enjoying bobbing on the water and singing along with Drew.
We hope we can make an annual event! What a valuable asset for the atmosphere and camaraderie on Loon Call Lake! Thanks Drew!
Thank you to all those who donated and put money into the tip jar! With all the incredible generosity on the lake, Drew is donating $1010 to the Indian Residential School Survivors Society! Way to go Loon Callers!

Planting Palooza – June 19, 2021
It was a beautiful sunny day. Nice to get out and meet (socially distanced) with cottage neighbours. Plants were picked up and planted. A fun time was had by all.


Pandemic Paddle, Food Drive and Boat Up Piano Bar – 2020
Wasn't That a Party!
We thought Covid-19 had turned the long weekend August 2020 into just an ordinary cottage weekend. But thanks to some creative thinking, August 1st ended up being a spectacular day.
The day dawned beautiful and sunny, and at 10:30 the Pandemic Paddle began. Canoists, kayakers, paddle boarders, people and pets took to the waters. Others stayed on their docks to welecome visitors. Everyone was smiling, chatting and visiting from a distance.
Thanks to your generosity, a large bin is overflowing with food for the Community Care Apsley food bank to be delivered on Tuesday. (If you still want to donate, please come by Lot 36.)
To top the day off, about two dozen watercraft converged on Lot 7 to listen and sing along with Drew Phillips (on Instagram @drewphillipsmusic). Drew took requests and played to a very satisfied crowd. Highlights included Stacy's Mom, in which Drew was joined by Scott Phillips; and the Tennessee Whiskey where we learned who will leave the comfort of their boat for a whiskey shot. Get your request list ready for 2021!
Photos on the Lake
Message Boards
Located at various points on our road system are message boards that display news of upcoming events and other general information. They are found in the following locations on the driver's side of the road as you come in: FR 55 (Jessica Drive), FR 57, FR 58D, and FR 58F (at 58G).
Little Free Library
A lending library or Free Little Library is available to anyone visiting the area, not just Loon Call Lake cottagers. It can be found on Fire Route 58F at the intersection of 58F and 58G. It is run on the Take a Book/Leave a Book policy, so take any book and leave any book, or return the book when you have finished reading it.
The Little Free Library's objective is to promote literacy and is part of the Little Free Library program and is sponsored by The Rotary Club of Peterborough.