Has your beloved Loon Caller passed? Do you know of a Loon Caller who has passed?
It would be our honour to tell their story and add them to the Loon Callers Remember page.
Please let us know so we can remember them, too. email info@looncalllake.ca
---
Olive Carey
August 27, 1929 – March 13, 2023
Sadly, one of "the originals" on the lake passed away this spring. Olive Carey passed away on March 13, 2023. She and her husband Sean were long time cottagers on Loon Call Lake. You can find her obituary here.
---
Doug Cane
20-Apr-1940 – 20-Aug-2023
We are saddened to announce the passing of long-time Loon Call Lake enthusiast, Doug Cane, who some of you might have known. Doug and his wife, Joyce, have been cottagers since 1988 and the cottage continues to be enjoyed by their sons, Paul and Mike, and their families. Doug was happiest when out paddling in his kayak, taking long walks in the woods, lending a hand to fellow cottagers, chatting with neighbours on the dock, and enjoying the cottage community that beautiful Loon Call Lake offers.
A simple service on Monday, August 28 at McDougall & Brown in Scarborough will be held at 10:00 a.m., followed by a reception at 11:00 a.m. In lieu of flowers, please consider making a donation to the Alzheimer's Society of Canada. You can find his obituary here.
Love,
The Canes
---
Richard Hubert
June 26, 1954 – March 20, 2023
His parents built their cottage back in the late 1950's. They passed away back in the 1980's or 1990's. Richard and his sister Janet, who survives him, continued to be wonderful neighbours to us.
Richard was a friendly outgoing person. He loved having his friends visit him. He had a long battle with cancer but continued to share his cottage with friends even when he could not be there.
We miss him!
Richard's obituary can be found here
Remembered by Marilyn and Bill McRae
---
Frank Baehr
FEBRUARY 24, 1939 – DECEMBER 4, 2021
We remember another of the Originals of Loon Caller who passed away recently.
Frank's parents were one of the first to buy property on Loon Call Lake in 1956;
building a small cottage and hauling supplies across the lake before the roads existed.
They enjoyed many a summer at the lake, storing up memories with other young adults on the lake.
Frank sold the cottage about 7 years ago. Sharing his love of the lake and his friendship.
Frank's obituary can be found here.
Remembered by
Ron and Candace Boehm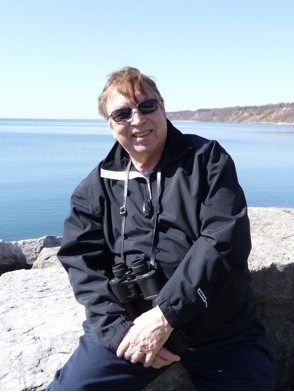 ---
Ingeborg Eidnes
December 25, 1941 – April 15, 2021
Ingeborg Eidnes passed in 2021. Her husband, Johannes, sold the cottage and moved to New Brunswick. We were new to the Lake 6 years ago and I enjoyed meeting her and listening to her stories. We shared the same first name. She loved the little "hut" at the lakes edge and often slept there. She also loved our Niagara peaches. Still miss her.
You can find Ingeborg's Obituary here.
Remembered by
John and Inge Saczkowski
---
Anna Marie Lapczynski
July 15th, 1927 – September 19th, 2022
Beloved mother, Anna Maria Lapczynski, passed one year ago. She and her husband George and children co-owned their Loon Call Lake Cottage since Dec. 1968. They are another of the originals who have made the lake such a special place.
You can find Anna's Obituary here
Remembered by the Lapczynski family,